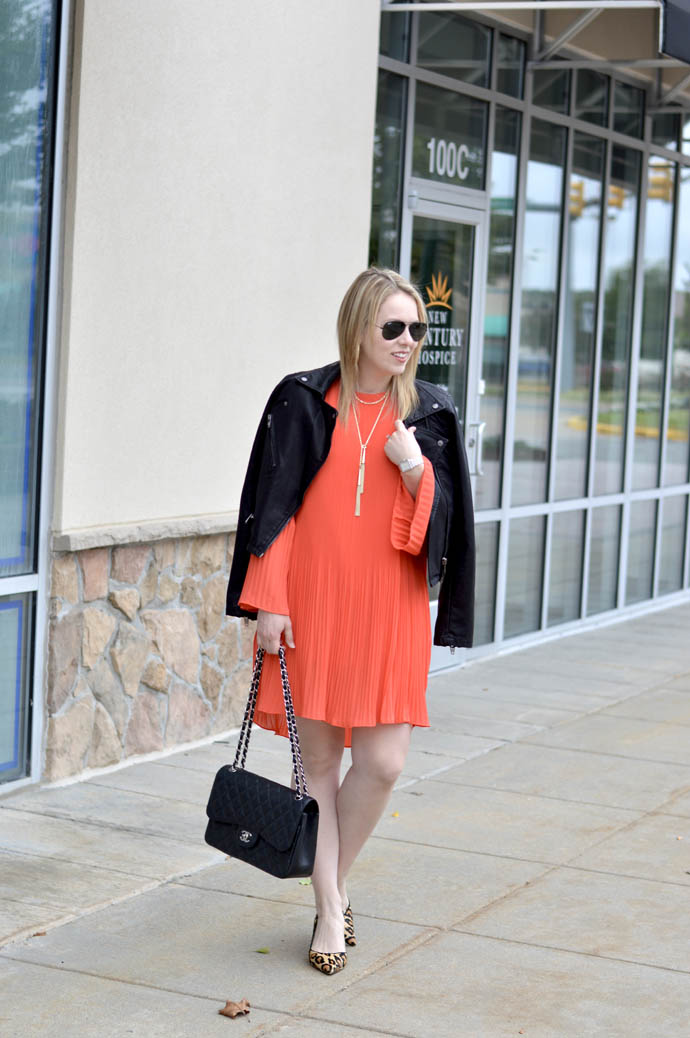 If I have said it once, I have said it one hundred times, I love a versatile piece that can be worn across the seasons. I first bought this orange swing dress in the spring (you may remember it from this post) and I loved wearing it all spring. Once the temperatures warmed up, I had to put it aside, but was determined to find another way to wear it once the cooler temperatures arrived. We spent the weekend in Pittsburgh a few weekends ago and couldn't wait to style this spring dress for fall.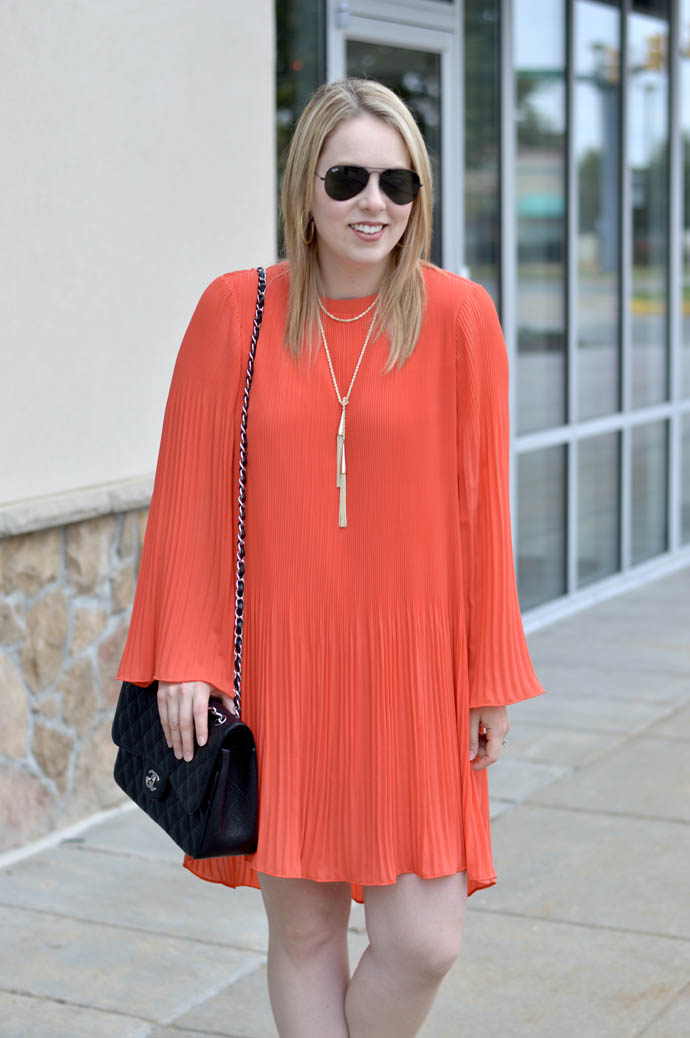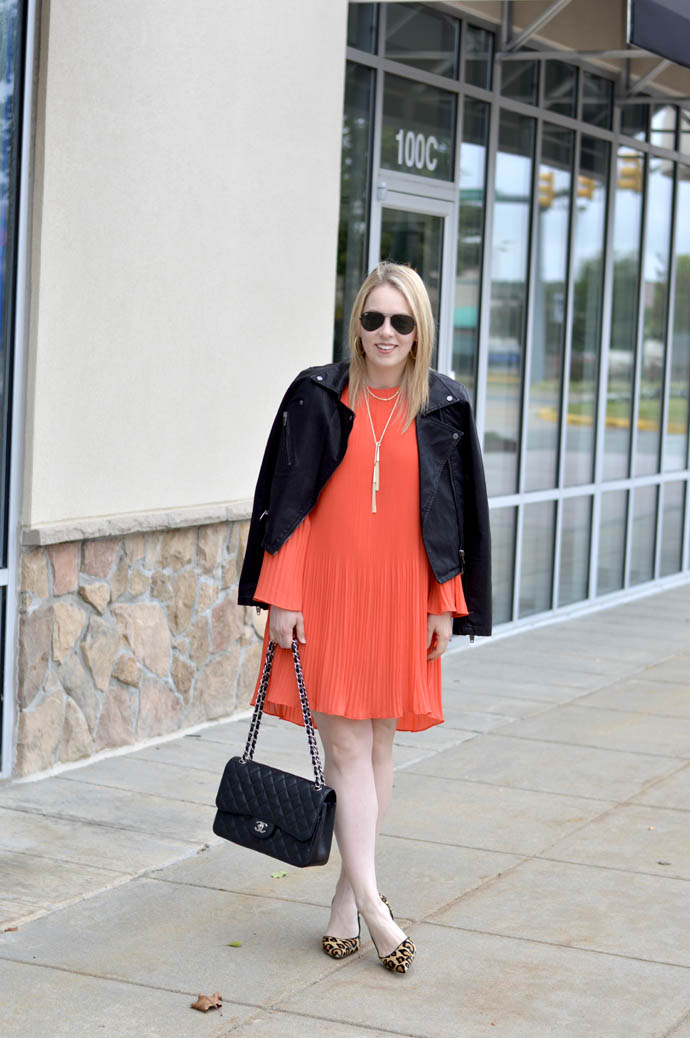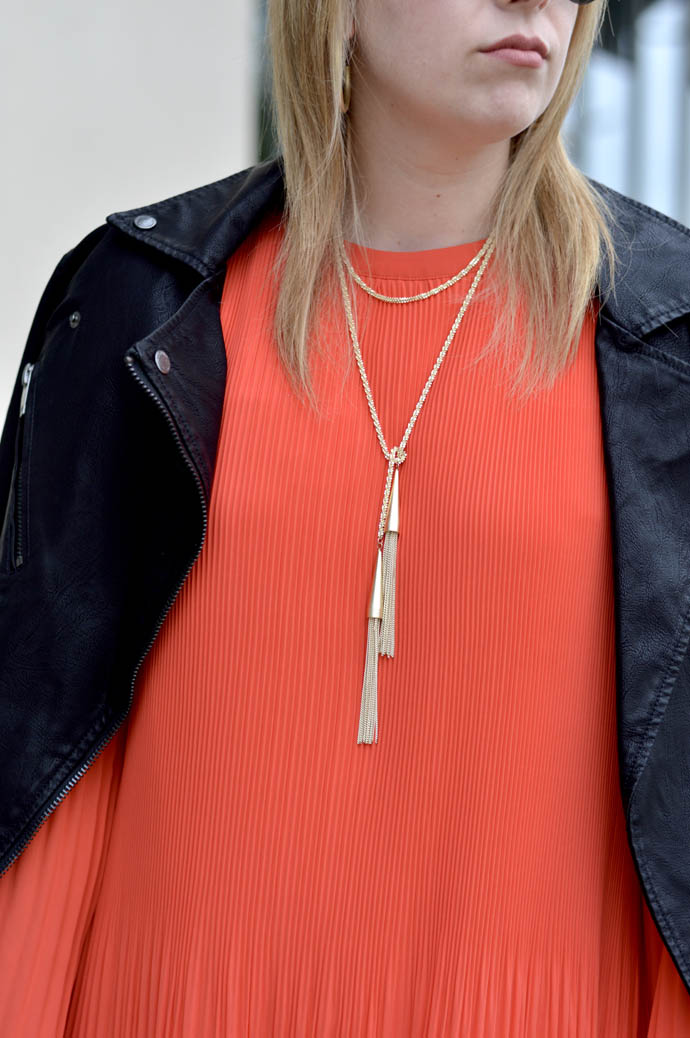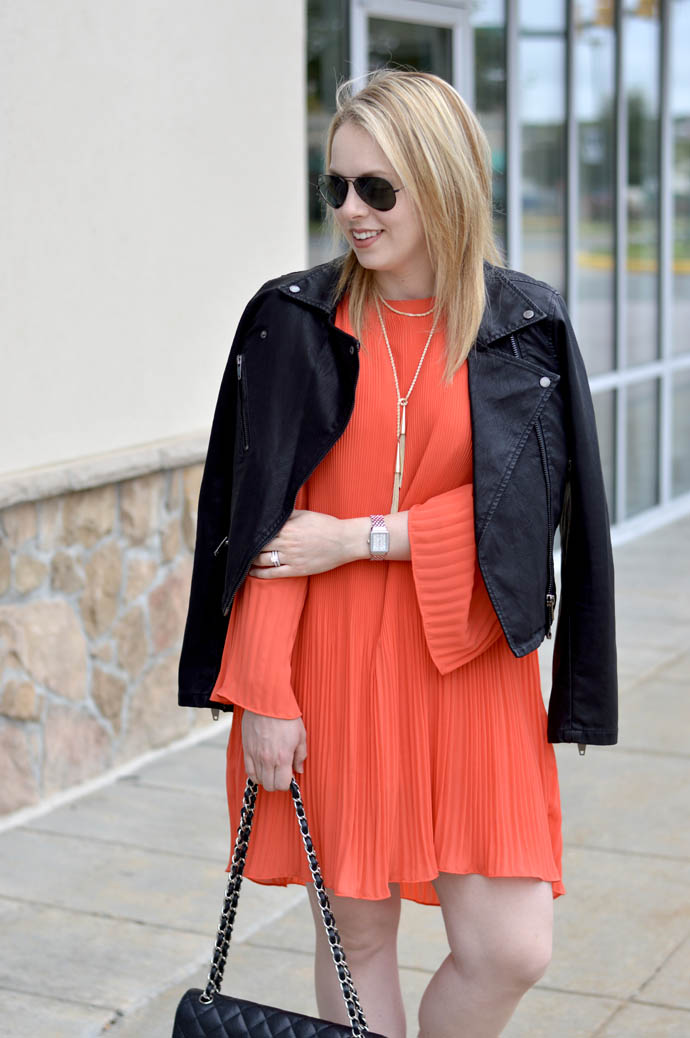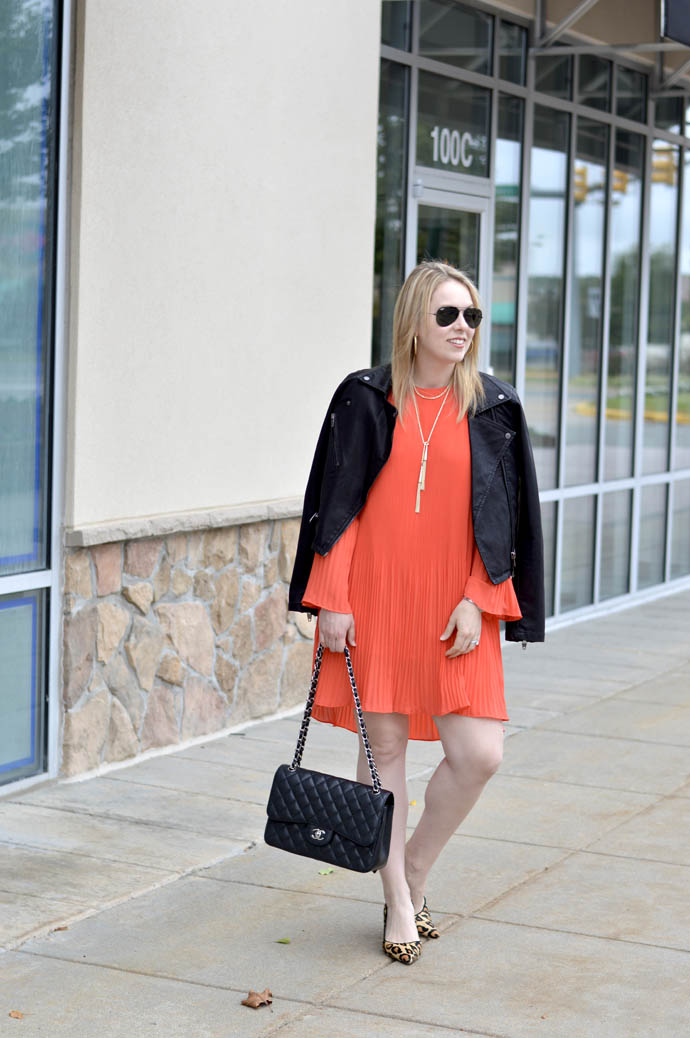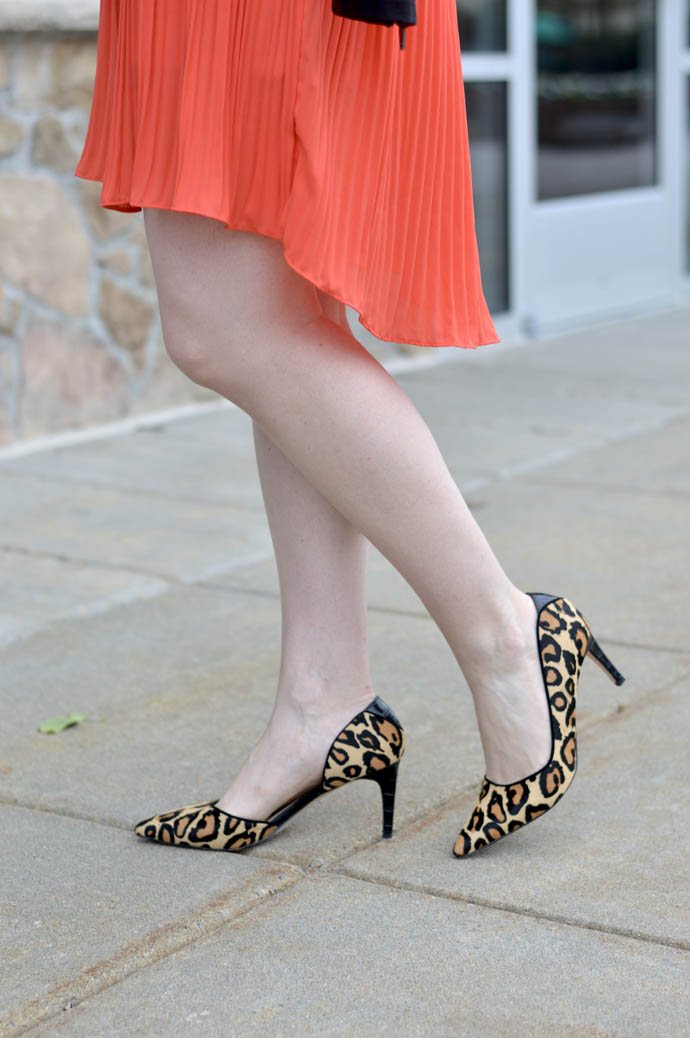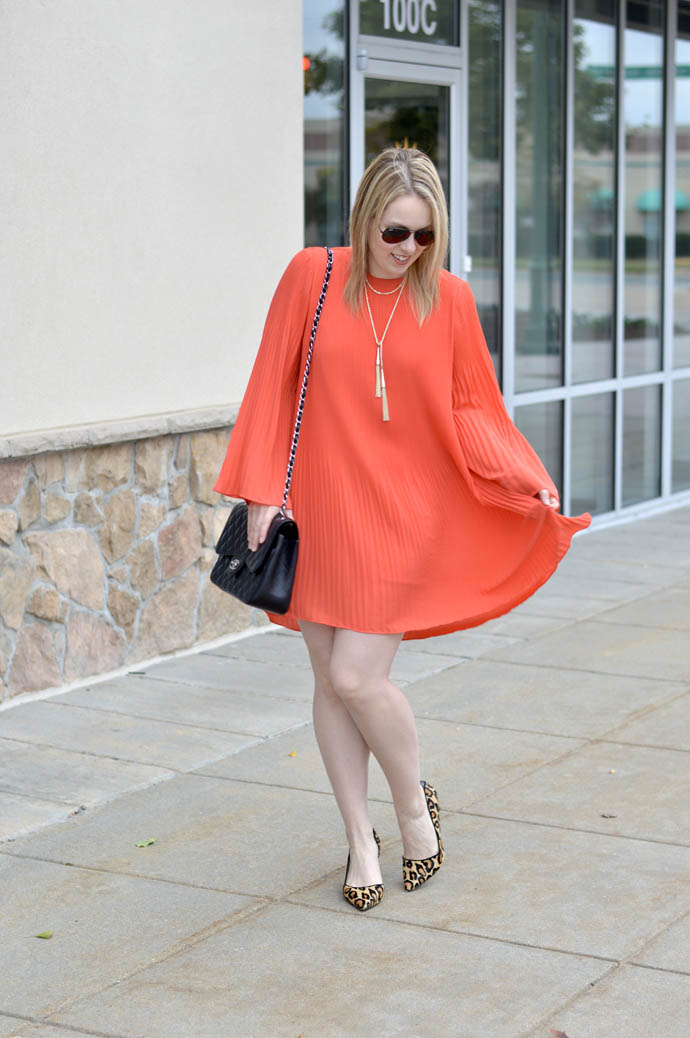 Orange Swing Dress: adelyn rae, sold out (more from this designer here) | Faux Leather Jacket: BLANKNYC | Necklace: Kendra Scott c/o | Leopard Heels: Sam Edelman | Earrings: Sheila Fajl | Watch: MICHELE | Bag: Chanel, buy it pre-owned here | Sunglasses: Ray-Ban | Lipstick: Velvet Teddy
Orange Swing Dress
It's hard not to love a dress that you can twirl in. I loved pairing this flowy pleated dress in the spring with gold sandals, but I think I love it even more as a fall piece. The contrast of the faux leather jacket, black bag and dark sunglasses instantly makes this spring dress suitable for this season. We all know about my love for leopard and I couldn't resist pairing the bright orange with my favorite neutral. I did, however, style the dress with this Kendra Scott tassel necklace once again. Since the dress has a higher neckline, this longer necklace adds a bit of a statement. However, I did tie the necklace differently. I love that this necklace can be worn so many different ways!
For the Love of Pittsburgh
Since I wore this for a weekend in Pittsburgh, I wanted to share a few of our favorite places to eat while visiting. It seems to always be a quick trip when we are in town for a Steelers game each fall, but we always try to visit at least one of our favorites. Pittsburgh will always hold a special place in my heart — my first blog post EVER was about Pittsburgh (you can see that serious throwback here) — so it's always fun to go back and visit. Since living there for my four years of college, the city has changed so much! Let's just say it's a good thing that many of these delicious restaurants were not around then because I would have needed a diet!
We have celebrated many special occasions at this restaurant, including my 21st birthday and college graduation. Located in the Strip District area of downtown Pittsburgh, the restaurant is in a warehouse with super cool and modern decor. Lidia's is best known for their daily pasta trio: an unlimited tasting of the chef's daily pasta served table side. As far as entrees go, it's actually the only menu item that I can speak to! It is my very favorite and each time we go, I order it. Although the pastas change daily, they are all delicious combinations. This last time, the pastas included a pumpkin ravioli with sage brown butter sauce, pappardelle in a pink sauce with sausage and a fettuccine with broccoli pesto and shrimp. All three were amazing (the pumpkin ravioli was my favorite!) and they even brought a separate skillet around for me without shrimp since I have an allergy!
 Thankfully this restaurant wasn't around when I was living in Pittsburgh because I would have been in serious trouble! Especially since it was walking distance from campus. Meat & Potatoes was Pittsburgh's first gastropub featuring craft food and fun cocktails. The menu features a lot of small plates, which gives you the chance to share and try multiple dishes. A few of our favorites include the fried brussels (the sauce is amazing!), mushroom flatbread and the burger. My husband loves the pub burger which includes pastrami and a fried egg! They also have quite a few fun cocktails, the Dark & Stormy is my favorite. One of the things I love most about Meat & Potatoes is that they are open 7 days a week. When I live there, downtown Pittsburgh had a tendency to shutdown on the weekends with not many things open, so it's great that they have a restaurant that is open each day! Heads up if you want to try Meat & Potatoes: make reservations!
Another Strip District favorite, this coffee shop is arguably one of our all-time favorites, regardless of city! Both my husband and I love coffee and trying out different coffeehouses when we visit new cities. We discovered 21st Street Coffee and Tea a few years ago and have been going back ever since. The coffee is delicious and with it's hip location, it's definitely a hidden treasure in the Steel City. Our favorite is the pour over where they precisely measure the coffee grounds to create the perfect cup of coffee. This fun coffee spot is a must-see if you are in Pittsburgh and love coffee as much as we do!
Bar Marco is also located in the Strip District! Needless to say if you are visiting Pittsburgh, you could stay in this area the entire time and have plenty of fabulous food options. We first discovered this restaurant last year while in town for the Steelers game. Located in an old firehouse, Bar Marco serves both dinner and weekend brunch. Although we haven't tried out the dinner menu, we fell in love with their brunch menu. With a tiny seating area, I would recommend reservations, especially on a Steelers game day. I loved the scrambled eggs (which were anything but your traditional scrambled eggs) and my husband and I split the fresh doughnuts. We did not get a chance to go back to Bar Marco the other weekend when we were in town. We decided to try something new for brunch and unfortunately, we weren't too impressed. Nothing against The Commoner, but it was a pretty basic breakfast that we felt was overpriced. Next year we will definitely be heading back to Bar Marco!
That's a wrap on our favorite Pittsburgh restaurants! Have you ever been to Pittsburgh? What is your favorite restaurant in the Steel City?
Thanks so much for reading, friends! Any weekend plans? Ella has her Halloween party on Saturday. She is defending her title as "Cutest Costume" so fingers crossed! She was the cutest bumblebee last year, but this year, we went for a more girly costume. Any guesses?! I'll share pictures next week! Have a great weekend!
….
Shop the Post