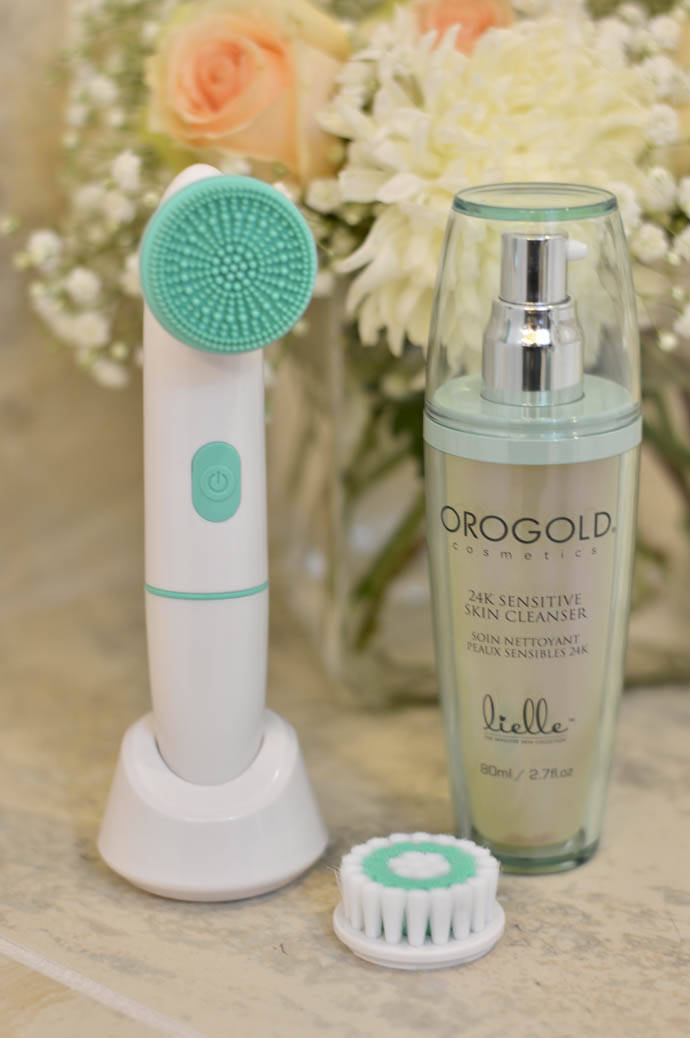 There has been a lot of talk about the change of seasons with fashion and food lately on A Blonde's Moment. But what about skincare for the fall? As the temperatures begin to get cooler, there are also adjustments that need to be made to your skincare routine. In a new mini-series, I am sharing what I have been incorporating into my skincare routine to prepare for the colder, drier months with Orogold Cosmetics. Let's kick off the Fall Skincare with Orogold series with the sensitive skin cleanser and facial brush.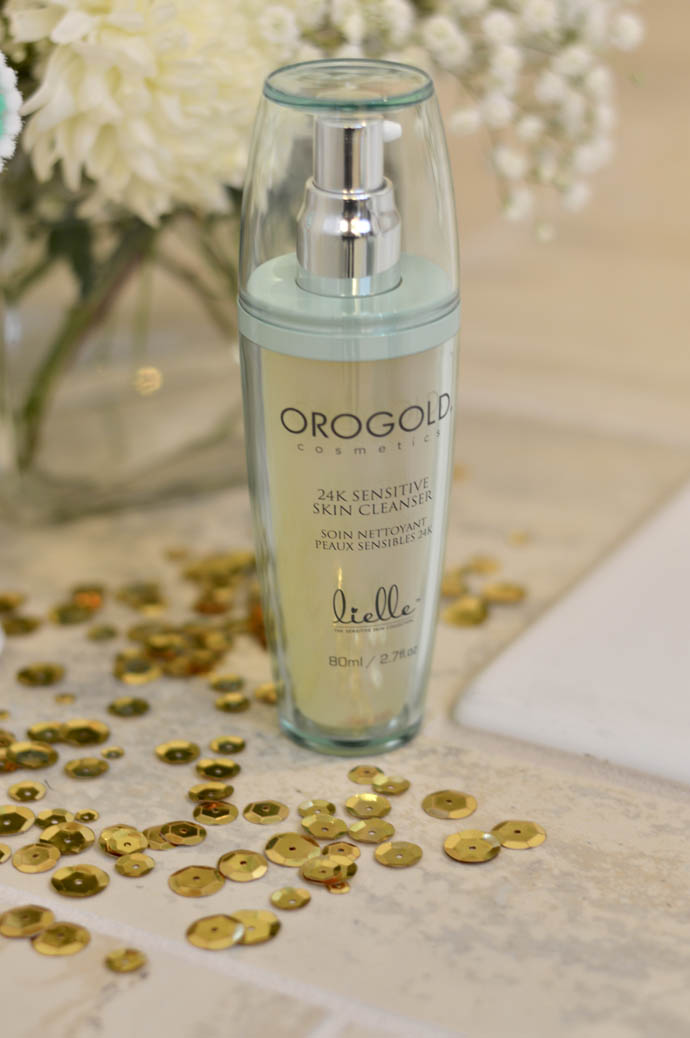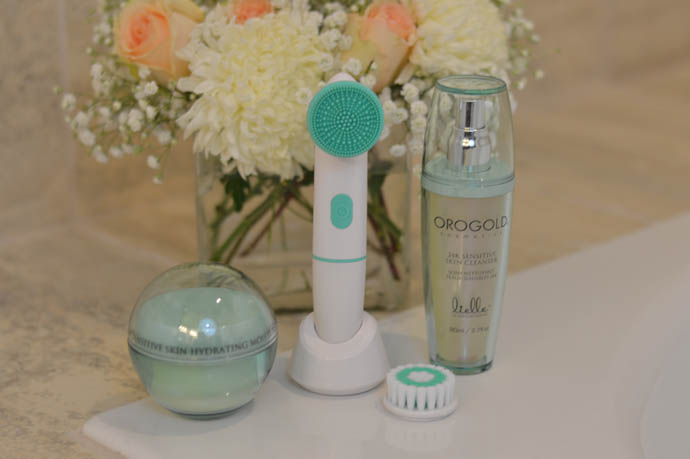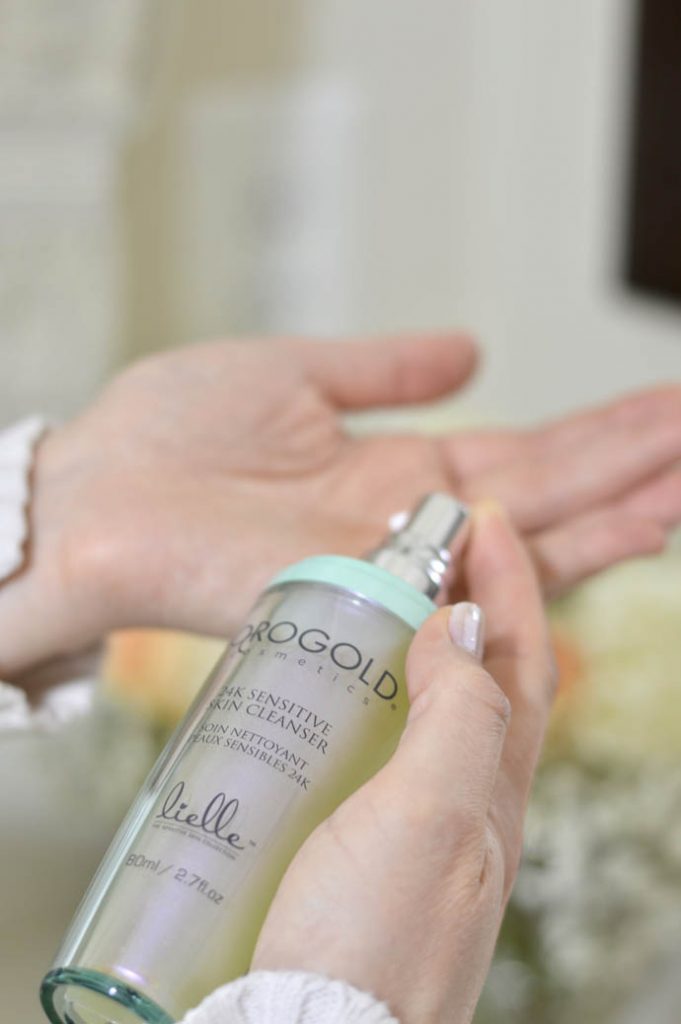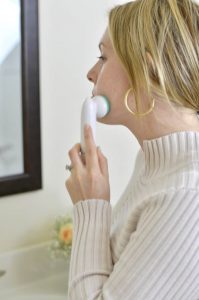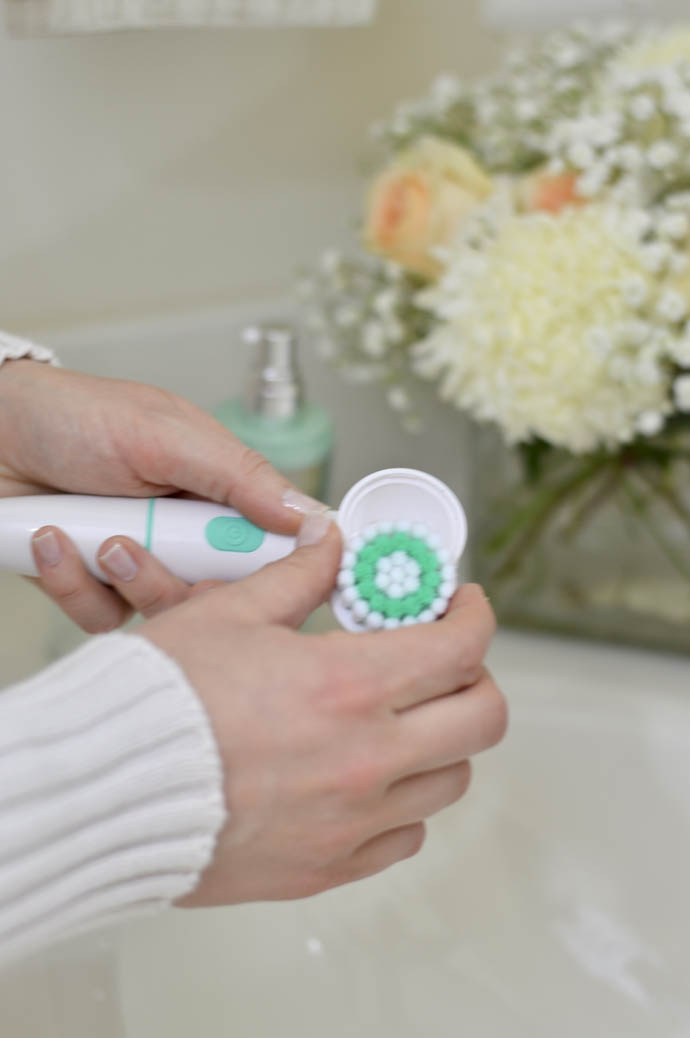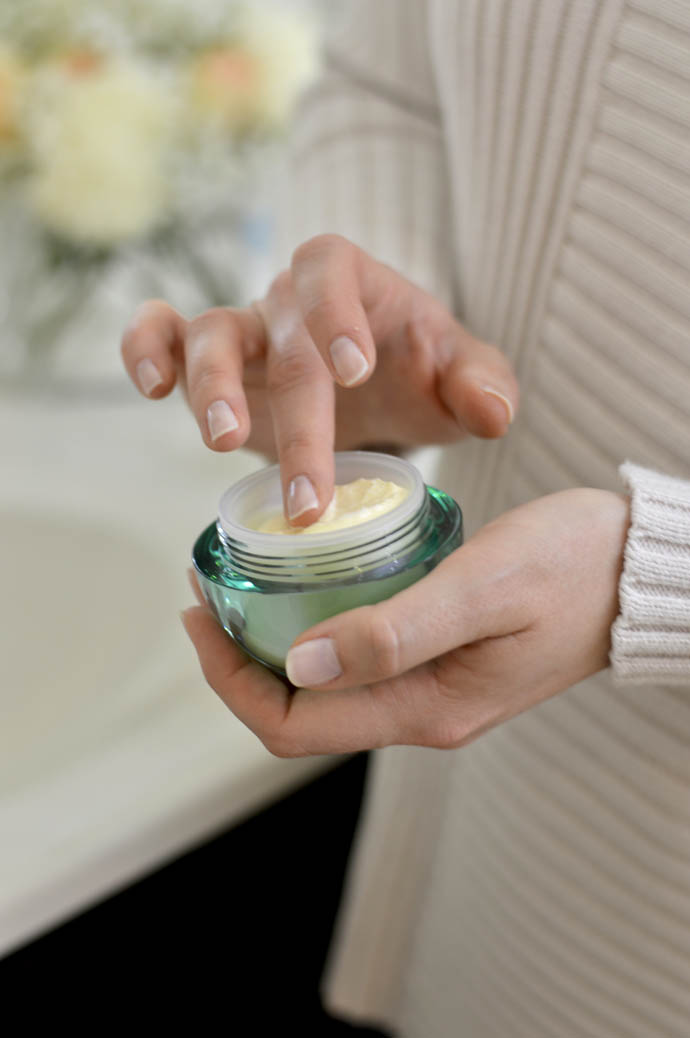 What is Orogold Cosmetics?
If you have been following along for awhile, you may remember a post I shared last year with Orogold (you can see that post here). I discovered the luxury skincare brand about a year ago and had a great experience with the products. With my sensitive skin, I love that Orogold uses the highest quality of ingredients — even refraining from using parabens — but also makes the products easy enough for the consumer to use. As I mentioned last year, a brand that devotes an entire skincare collection to sensitive skin is alright in my book! And although I love the sensitive skin line, they also have collections for every skin type. You can check out their entire collection here and follow them on Twitter for all the latest news.
24K Sensitive Skin Cleanser
I have reviewed this cleanser before, but like so many of Orogold's products, it's something I keep coming back to. The 24K Sensitive Skin Cleanser is not only gentle on my skin, but it leaves my skin feeling hydrated and soft. Two important qualities as we head into the cooler months. A little goes a long way with this cleanser: I use one pump to wash my face. And although it is on the pricer side, I think it's a great cleanser to incorporate into your skincare routine a few times per week during this time of the year. As with all the products in this sensitive skin collection, I love that the product's scent isn't overwhelming. Typically products that feature a strong fragrance not only give me a headache, but also irritate my skin. This is not the case with Orogold's sensitive skin line.
24K Deep Facial Brush Set
A newer product to the Orogold collection, this 24K Deep Facial Brush Set is a new favorite of mine. I have used other facial brushes in the past and have liked them. But, one of the biggest complaints I have had is the size of the brush. Enter Orogold's Facial Brush Set. With a smaller brush head, you can easily clean your entire face, without the cumbersome head on most facial brushes. The set comes with two types of brushes: a soft bristle brush for a deeper cleanse and a silicone brush head for a gentler cleanse. I like to use the facial brush with the sensitive skin cleanser twice a week and prefer the silicone brush head. The gentler cleanse works better for my skin type. But with the cooler months on the horizon, I will use the soft bristle brush once or twice a month for further exfoliation.
24K Sensitive Skin Hydrating Moisturizer
A hydrating moisturizer is an essential for the colder months but also during this transitioning period. You will probably be seeing this 24K Sensitive Skin Hydrating Moisturizer in each post of this mini-series because it's definitely a fan favorite. I have been using this moisturizer before bed after I use the sensitive skin cleanser and facial brush. Designed to help reduce the appearance of fine lines and wrinkles, this creamy moisturizer leaves my skin feeling so soft and silky, it's incredible!
I am a firm believer in switching up your skincare routine to reflect the change of seasons. Even when used only a few times per week, I have noticed a difference in the feel and appearance of my skin. The cleanser, facial brush and moisturizer combination is a great way to prepare your skin for the fall temperatures. Stay tuned for the second post in this fall skincare mini-series!
Have your tried Orogold Cosmetics? What is your fall skincare routine?
Thanks so much for stopping by and for Orogold Cosmetics for sponsoring this post. As always, all opinions are my own. Have a wonderful Wednesday!