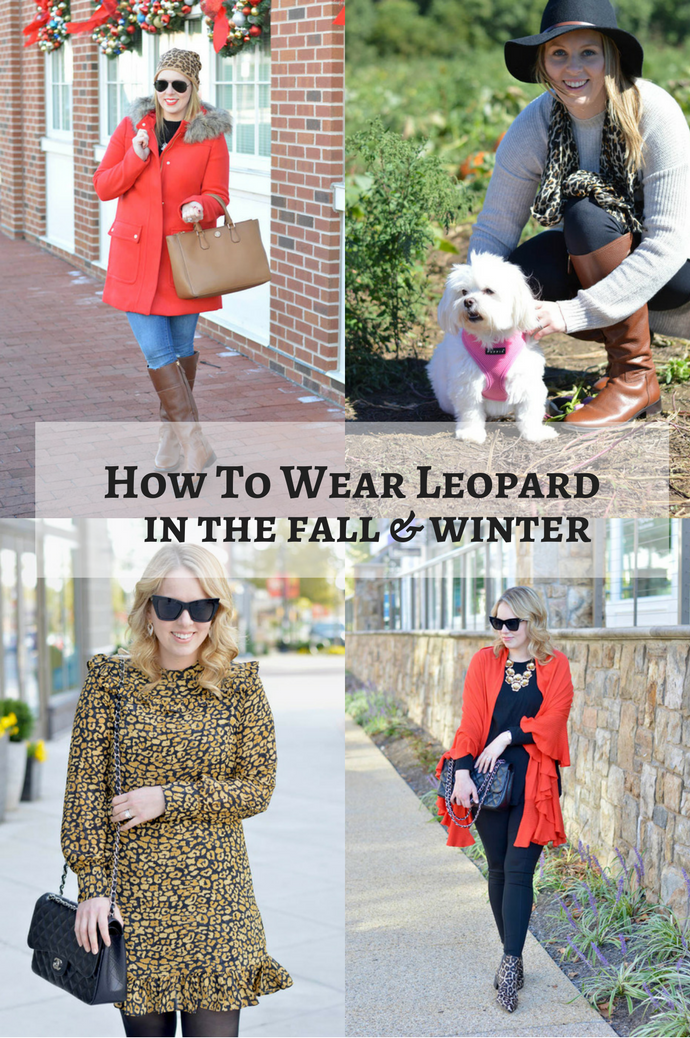 Oh, leopard. The perfect neutral. If you have been following along for awhile now, you probably have noticed my leopard obsession. From dresses to accessories, it's my go-to neutral print. I thought that since I wear a lot of leopard on here, it was time to talk about how to wear leopard and incorporate it into your wardrobe. Especially since leopard is bigger than ever this fall! Whether you are just looking for a hint of leopard with accessories or to make a statement with a dress, this post will have you covered.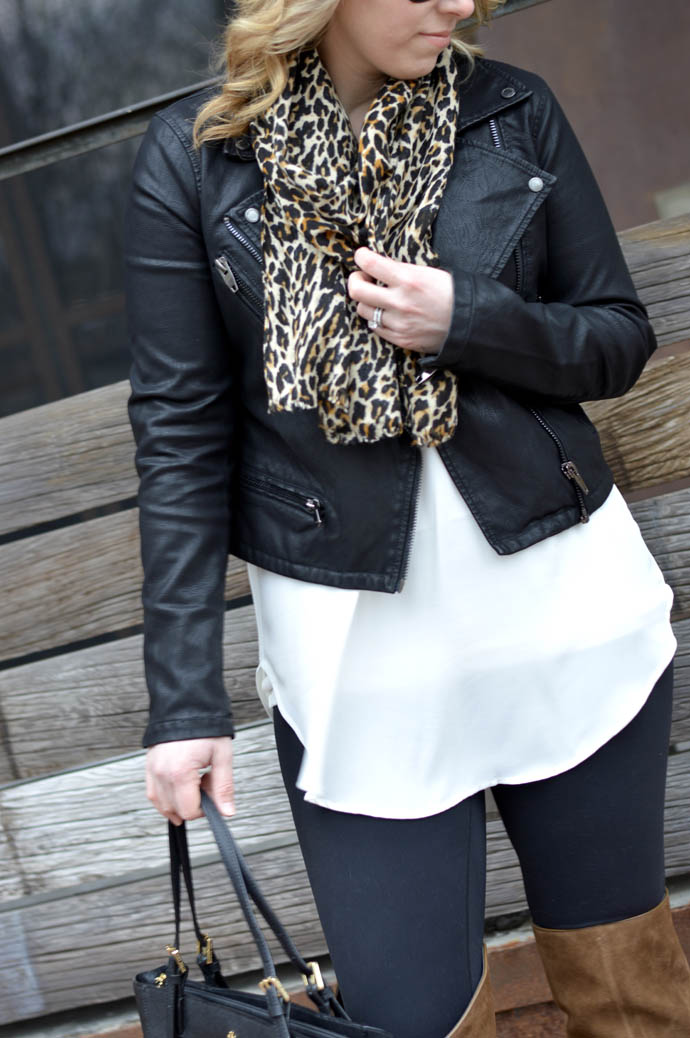 Outfit 1:  similar sweater | similar scarf | leggings | updated boots | similar hat
Outfit 2: faux leather jacket | white tunic | similar scarf | leggings | similar over the knee boots | bag
Leopard as an Accessory
One of the easiest ways to add leopard to your look is with accessories. And as much as I love the print, accessories are typically how I wear it most! There are a ton of leopard accessories out there, but a scarf is a good place to start. In general, scarves are one of my favorite accessories in the fall and winter because not only do they add a layer of warmth, but it's a fun way to mix up an outfit. I have had this leopard scarf for years (similar style here) and can't even begin to tell you how many times I have worn it. I love it with a basic sweater and riding boots like I wore it to the pumpkin patch with Ella (full post here). But it also works styled edgy like I did with this faux leather jacket (full post here).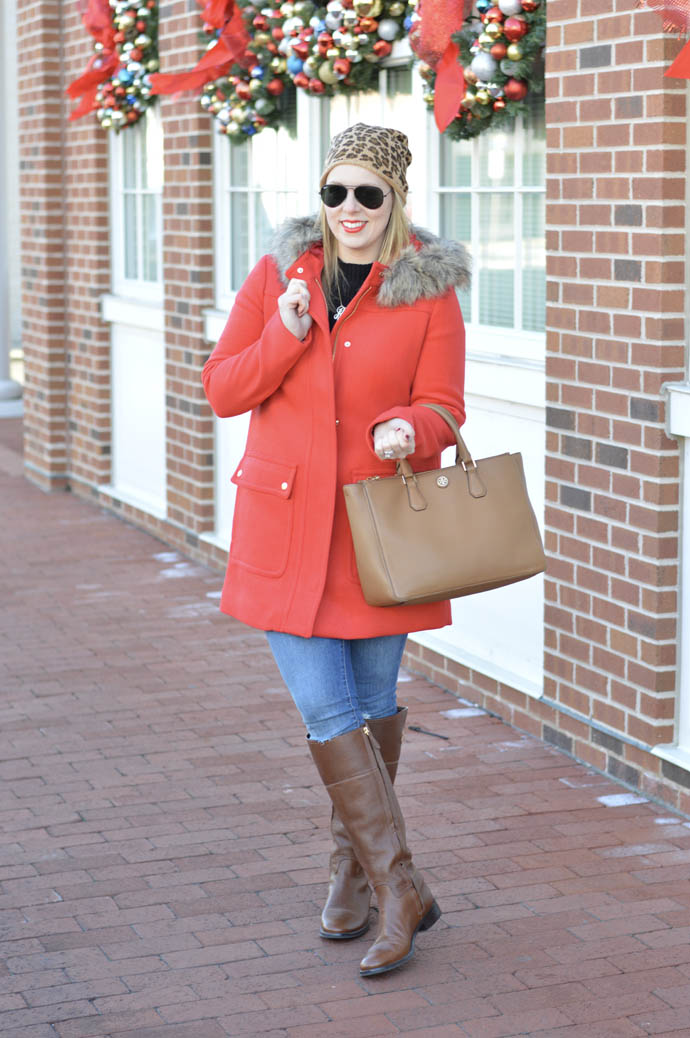 coat, red no longer available (same style here) | similar sweater | jeans | updated boots | similar bag | beanie | sunglasses | lipstick (#09)
A different kind of accessory, this leopard beanie was one of my favorite leopard pieces from last year (full post here). Especially perfect for the cooler temperatures, I was so happy to see that it is back in stock this year. Leopard and red is always a great combination and this red jacket and beanie combo was one of my favorite holiday outfits from last year. The perfect look for Christmas shopping!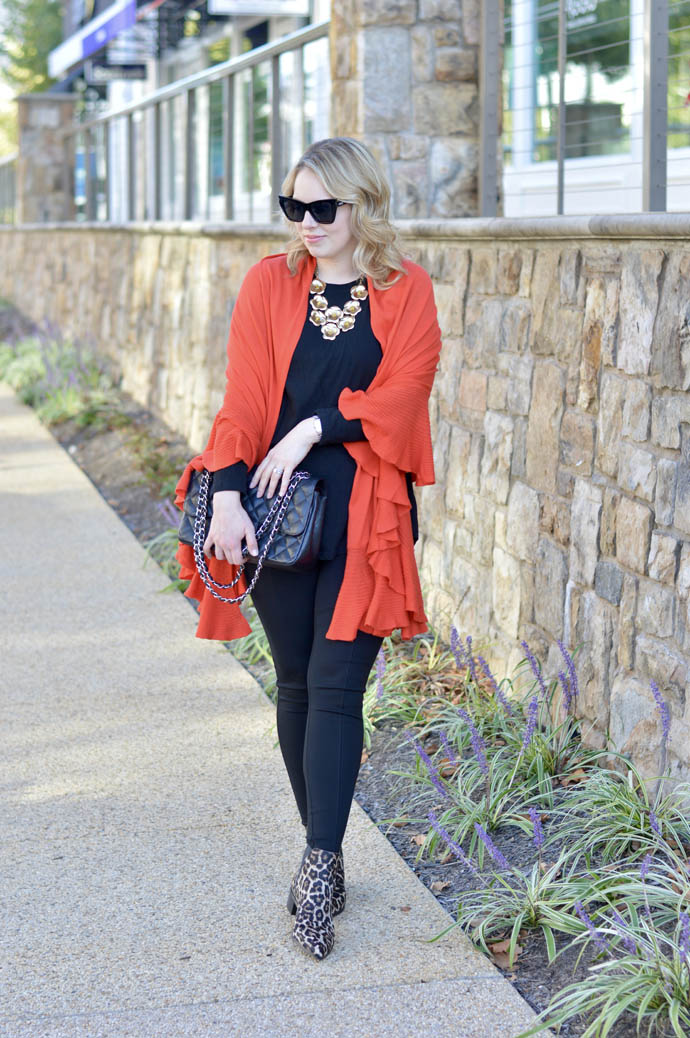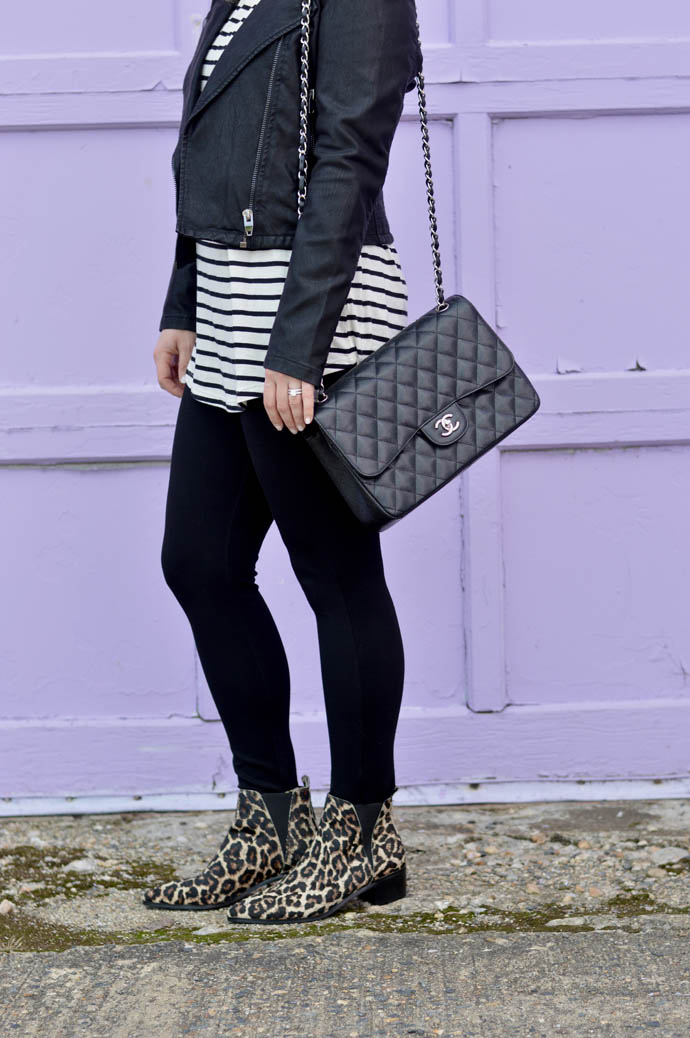 Left: tee | shawl c/o | leggings | necklace c/o | sunglasses | bag (buy it pre-owned here) | similar booties
Right: similar striped tee | leggings | faux leather jacket | bag (buy it pre-owned here) | similar booties
Boots with the Leopard
These leopard ankle booties were a Nordstrom Anniversary Sale purchase and I have been loving them ever since! Although also an accessory, a little less subtle on the leopard scale. When I first saw them during the sale, I knew I needed them…even though I wasn't exactly sure how often I would wear them. I'm happy to report that these statement ankle booties have been worn quite a few times this fall. Paired with bright colors like this orange shawl, or neutrals like this striped tee and faux leather jacket, these boots prove that leopard really is a neutral.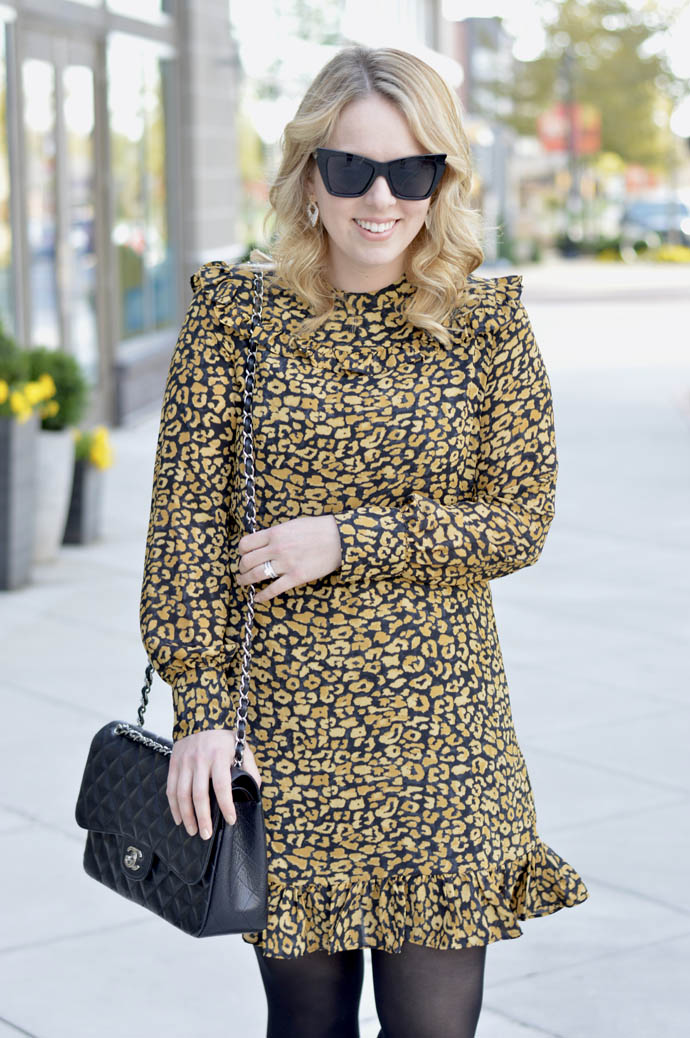 dress | bag (buy it pre-owned here) | sunglasses
Full Out Leopard
Alright, while this technically isn't leopard, it's close enough. Although I just shared this dress last week, I had to share it again because it is probably my most "in your face" leopard (cheetah) piece. You can see the full post here. Paired with black accessories and ankle booties, the dress can easily be toned down to be not as loud of a pattern as it may seem. I even wore my faux leather jacket over the dress to break up the pattern and add an extra layer for warmth. As a side note, the faux leather jacket has been featured heavily in this post! It really is one of my go-to jackets. In case you are looking for a versatile jacket, I highly recommend this one!
Whether you prefer your leopard in accessories or in pieces of clothing, this neutral print is easy to come by these days. Do you have a favorite leopard piece in your closet? What is your favorite way to style it?
Thanks so much for reading, friends! I hope you all have a great rest of the week and weekend. See you back here on Monday!
….
Shop the Post