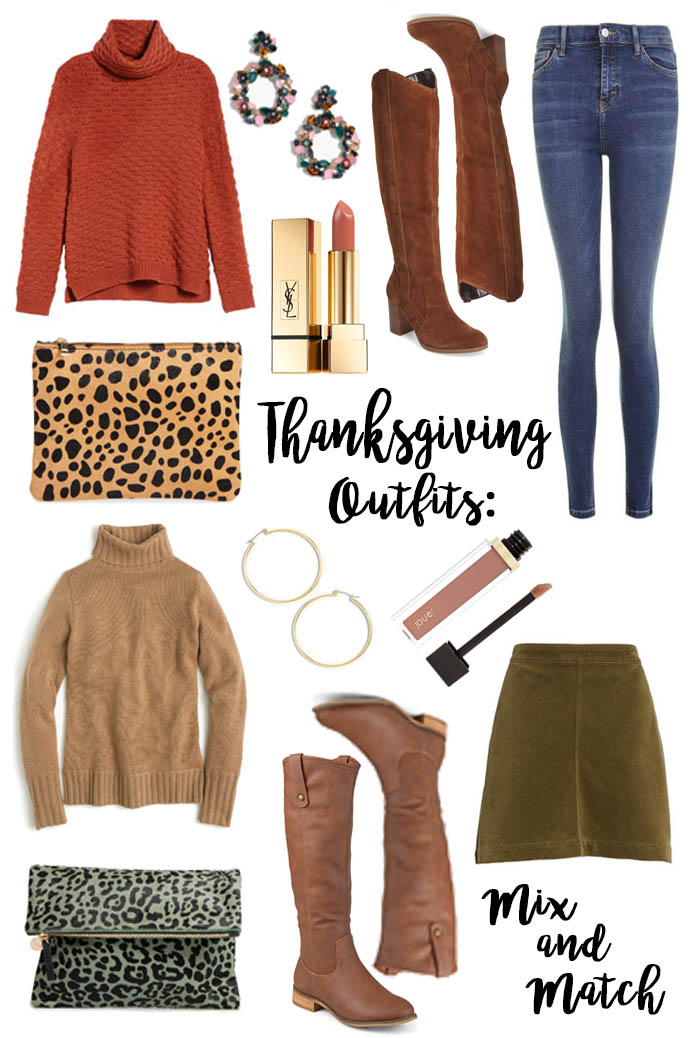 rust bubble stitch sweater | floral hoop earrings | lipstick | suede boots | high waisted skinny jeans | leopard clutch | camel turtleneck sweater | gold hoop earrings | lipgloss | leopard foldover clutch | riding boots | corduroy mini skirt
It's crazy to think Thanksgiving is only a little over two weeks away. Where has 2017 gone? Since we are getting so close to the holiday, this Wednesday Wishes is all about Thanksgiving outfit ideas that can be mixed and matched. Whether you are getting dressed up for the holiday or like to keep it casual, these are a few pieces that can be mixed in match to create a cute Thanksgiving outfit.
Thanksgiving Outfit Ideas | Mix & Match
Typically, I stay relatively casual for Thanksgiving. However, one year it was snowy and cold and I wore a skirt with tights and nearly froze! Whether you dress down in jeans or up in a skirt or dress typically depends on the weather. But no matter if it's cold or warm, comfort is always key. For today's inspiration, I used a quintessential fall color palette and chose pieces that could be mixed and matched for Thanksgiving and everyday fall outfit inspiration. Here are a few of my favorite pieces from this collection:
Weather permitting, a comfortable and cozy turtleneck is always a great idea for Thanksgiving. I love this bubble stitch sweater and the rust color is perfect for the holiday. But, if you want something more traditional that could be paired with just about anything in your closet, this camel turtleneck sweater is also a great option. Either of these sweaters would look good with jeans and over the knee boots. But the sweaters would also look cute with a mini skirt and riding boots, too. I would probably do a front tuck on the sweater if I decided to pair it with the mini skirt.
Accessories are a great way to elevate your outfit. Given my love for leopard, I couldn't resist including some into this inspiration board (just wait for tomorrow's post!). Although I love the price point and traditional style of this leopard clutch, the green foldover leopard clutch is a fun spin on the traditional and I love the color for fall. As for earrings, I like the idea of statement earrings like these floral hoops when wearing something simple like a sweater and jeans. This fun accessory dresses up the look just enough. But, you could also take a more traditional route with these gold hoops which would look fabulous with both outfits.
Have you started planning your Thanksgiving outfit yet? No fear if you haven't, I'm still trying to decide too! Hopefully this will help with some inspiration if you are looking for it.
Thanks for reading and have a wonderful Wednesday, friends!
….
Shop the Post