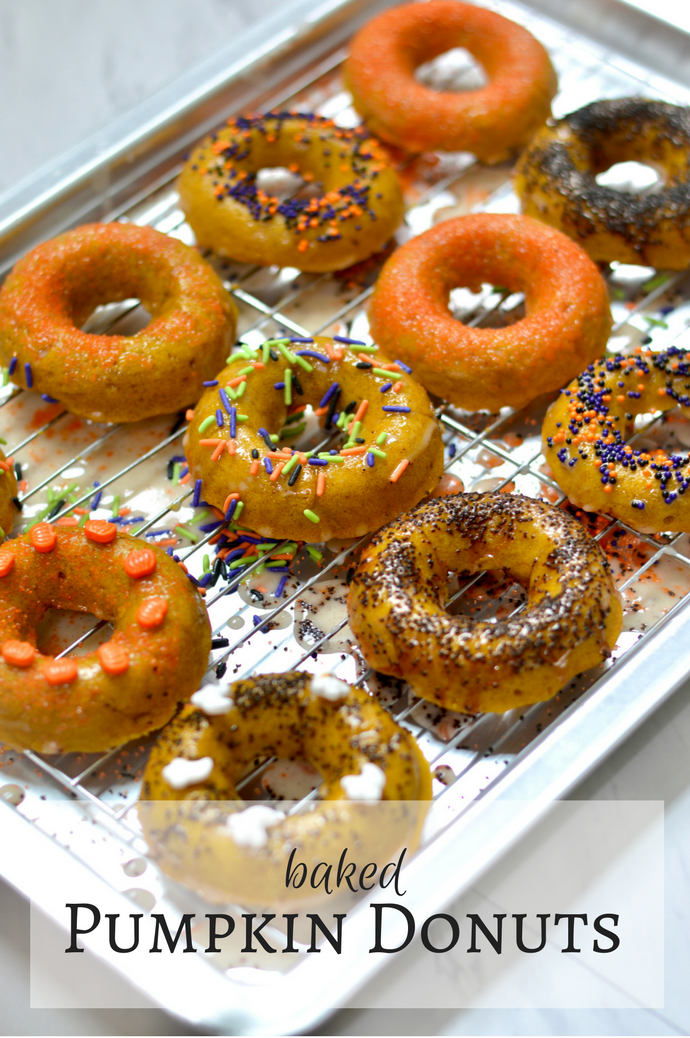 Happy Halloween! I thought these cute and festive baked pumpkin donuts would be a fun recipe to share today given the holiday. But these donuts are not exclusive to Halloween. Make them for the rest of fall and pair them with cider for a yummy fall treat!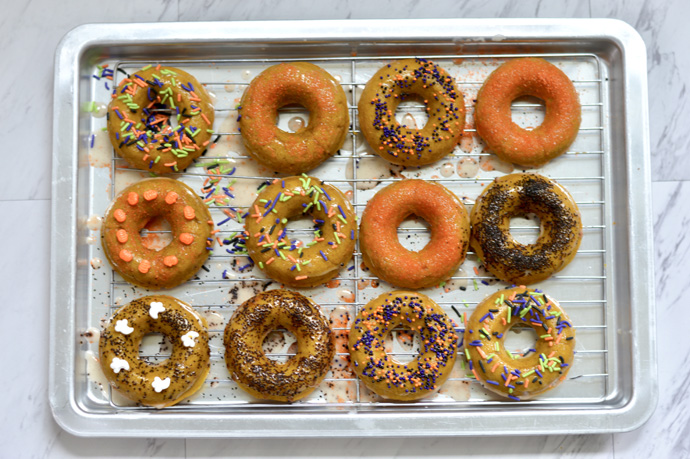 Baked Pumpkin Donuts
A few weeks ago, my mom told me she purchased a donut pan to make donuts in the oven. I have always wanted to try my hand at homemade donuts, but never had the pan. (If you want to try these and don't have the pan, you could easily use a muffin tin, they just wouldn't have a hole in the center! I used this pan if you are interested in buying.) For our first try at donuts, they didn't turn out too bad. I normally like to share quick and easy recipes with you because those are the types of recipes I use and appreciate most! Typically, I like starting with a cake mix or finding another shortcut, but for these, we went purely and simply from scratch. I found the recipe on King Arthur Flour's website, so it's not an ABM original.
As far as the recipe went, I would probably make some changes if I make these again. I don't know if the recipe intended this or not, but these donuts came out very cake-y. For the sugar, the recipe says "1 to 1 1/2 cup sugar". I went with the 1 cup because I don't like anything super sweet. Maybe that also changed the texture? I also found that the donuts looked a little tiny when they came out of the oven. I only filled the pans 3/4 full like the recipe said, but there wasn't much rising that happen. With the glaze and the sprinkles, they came to life, but if I were to make them again, I would probably fill them fuller.
These few issues aside, the donuts were delicious. And much healthier than the fried version! I am definitely looking forward to trying another donut recipe with these pans again. I might try out the plain version to get a basis and see how the texture comes out (if it is still cake-y) or if it was an ingredient that is exclusive to these pumpkin donuts. Have you ever tried making homemade donuts? I hope you all have a wonderful Tuesday and Halloween!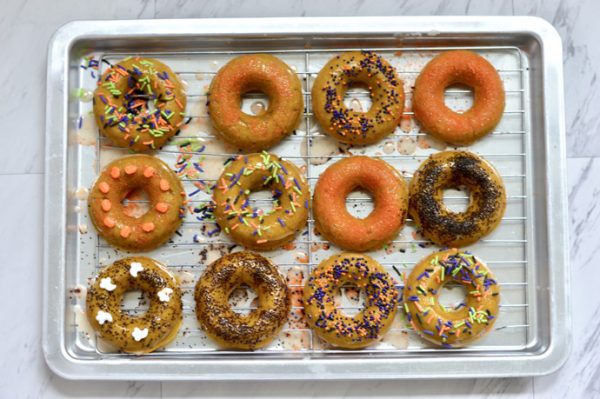 | | |
| --- | --- |
| | |
Preheat the oven to 350 degrees. Lightly grease the pans. Beat together the vegetable oil, eggs, sugar, pumpkin puree, pumpkin pie spice, salt and baking powder until smooth. Add the flour, stirring until smooth. Fill the pans 3/4 full. Bake 15-18 minutes. Allow the donuts to cool in the pans for a few minutes before transferring to a drying rack. In a small bowl, combine the powdered sugar, water and vanilla extract until smooth. Dip the top of the donut in the glaze mixture and add any sprinkles or toppings that you desire. Serve and enjoy!