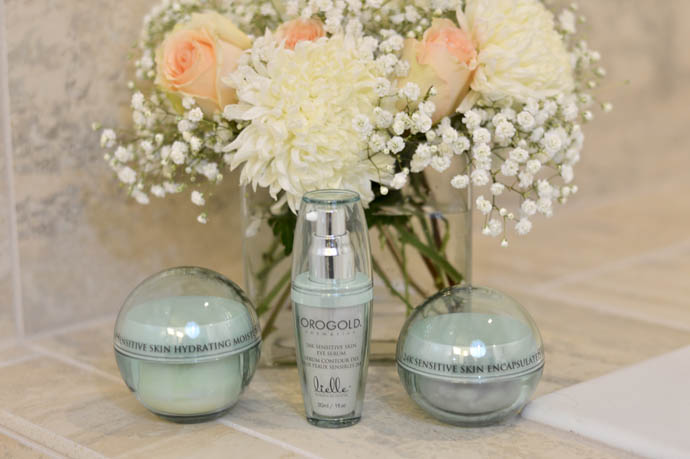 Happy Wednesday, friends! I am back today with the second post in my fall skincare mini-series with Orogold Cosmetics. If you missed the first post featuring the cleanser, facial cleansing brush and hydrating moisturizer, you can see that here. I'm moving on to share with you a sensitive skin eye cream and serum I incorporate into my skincare routine for fall to prepare for the cooler temperatures.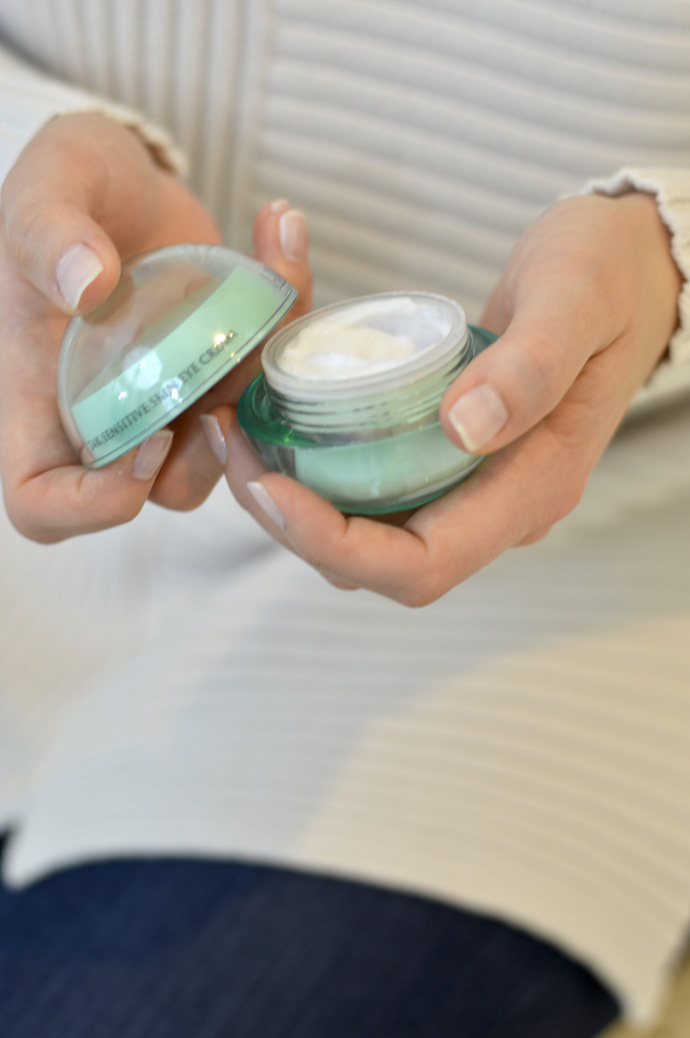 To be honest, I have never really been one to use eye cream. One of the first times I used eye cream was when I discovered Orogold last year! But, as I get older, I'm beginning to see why it is such an important part of my skincare routine. I have been using this sensitive skin eye cream in the mornings before I apply my foundation. As I mentioned when I first tried this product last year, I loved how hydrated my skin felt. Not only does it moisturize the delicate area under my eye, but it also helps reduce the appearance of tired eyes. Something I'm sure we all can appreciate! Since using this eye cream and the 24K Sensitive Skin Eye Serum (more on that below), my eyes look less tired even before applying concealer.
As I mentioned, applying this eye cream before my makeup leaves my skin feeling extra hydrated, but I have also noticed that my under eye concealer is working better too. More of a flawless finish, I have found that hydrating your under eyes is the first step to making your tired eyes and dark circles less noticeable. Like with many of Orogold's products, a little goes a long way! I use about a pea-size of the cream under each eye.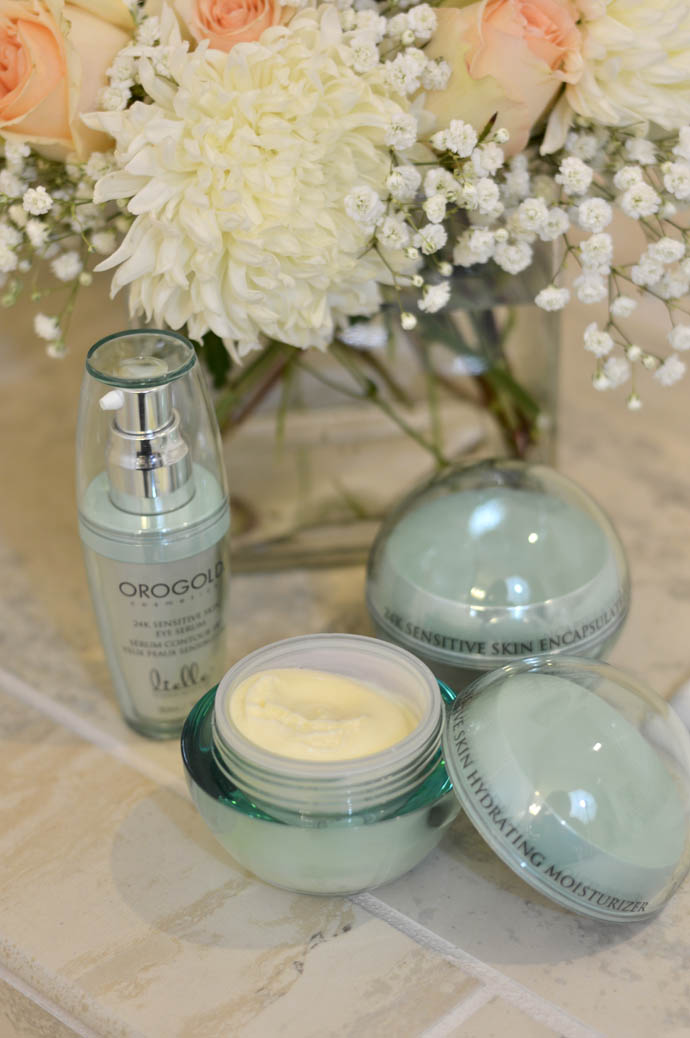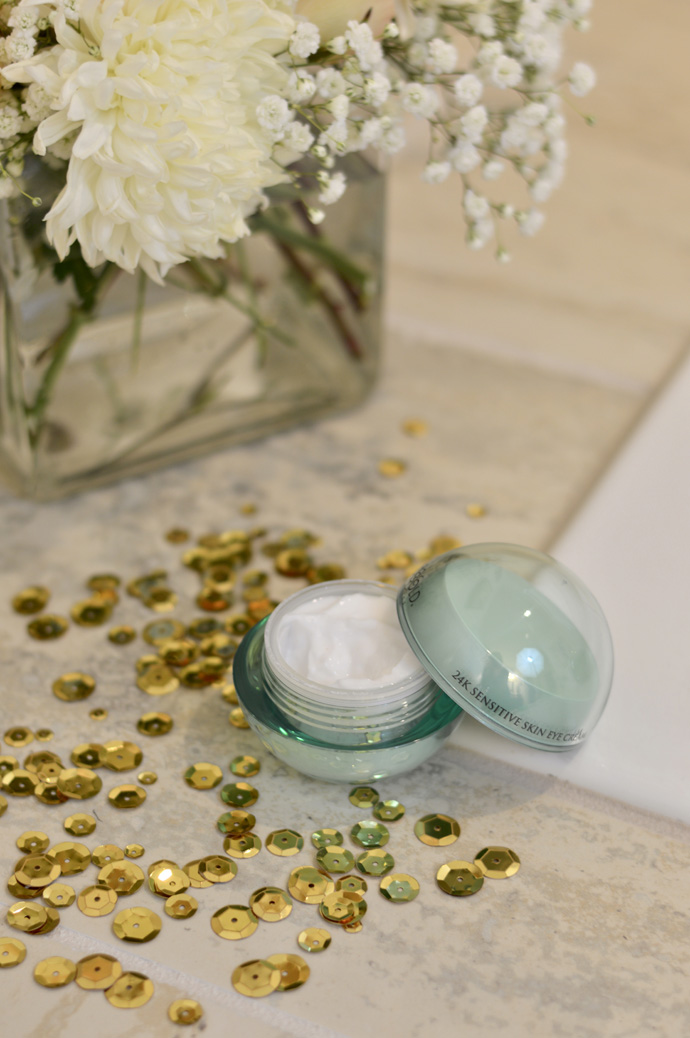 This eye serum has quickly become part of my nightly routine. Designed to be used in conjunction with the eye cream I mentioned above, this serum can be applied prior to the cream in the evening. I have been using this eye serum 4-5 nights per week for the last few weeks and have noticed a difference already. The serum, which is a non-greasy gel formula, targets wrinkles and expression lines at the corners of your eyes. I will be turning 30 (?!?!) next week and in the last few months, I have noticed expression lines around my eyes more and more. Maybe it's because I'm looking for wrinkles now that my 30's are in sight, but since using this serum and eye cream, the expression lines seem to be less pronounced.
Texture-wise, I would say that the eye cream (above) is much more hydrating. So if hydration is a concern of yours, I would definitely recommend the cream. To get the most bang for your buck, I think the mixture of the eye cream and serum gives you the added hydration along with age fighting ingredients. As for amounts with the serum, I use about "half of a pea" (is that even a measurement?) size for both under eyes and corners.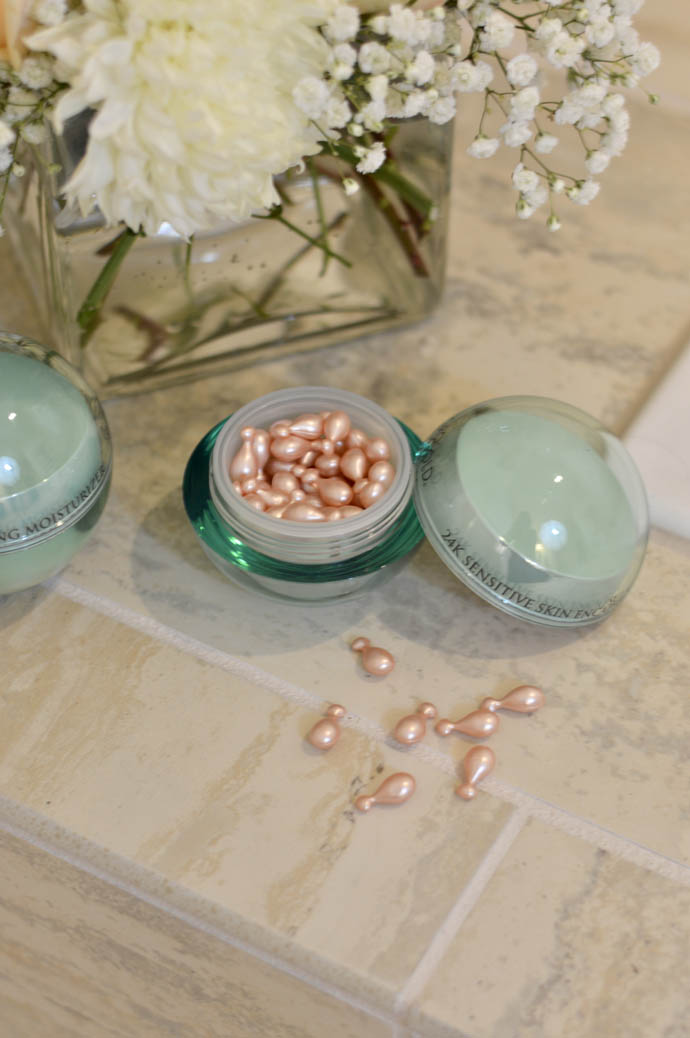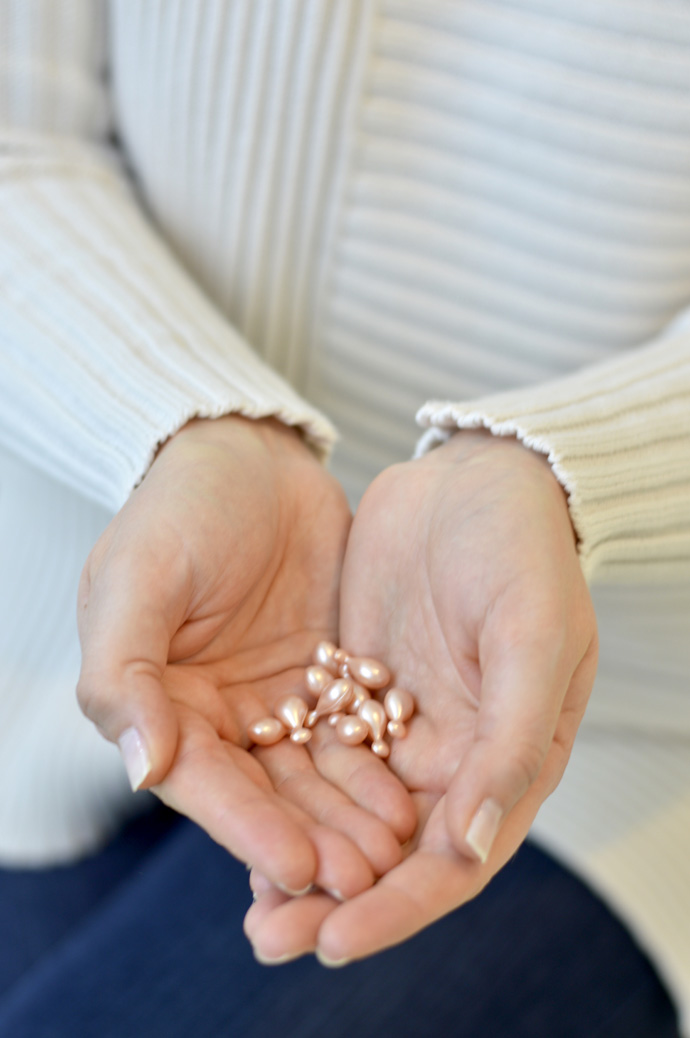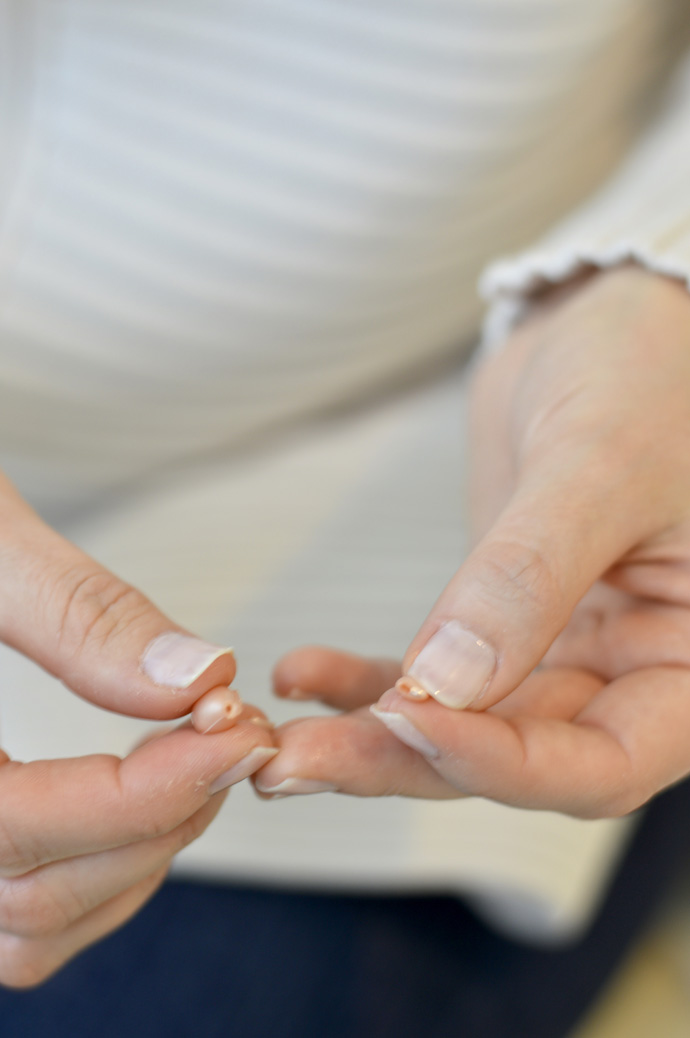 When I first reviewed the encapsulated serum, I was wary of anti-aging products. And although I still am to some extent, depending on the product, the sensitive skin encapsulated serum seems to work well with my dry and sensitive skin. The serum is packed with ingredients to help reduce wrinkles with a formula that leaves your face feeling soft and silky.
I like to use this serum on Sunday evenings — I feel like it's the perfect treat to get my skin ready for a new week. The directions suggest using the serum weekly, but given it's higher price tag, I have been using it every 3-4 weeks to make it last longer. However, each package contains 70 capsules, roughly 17 months of serum, if you decide to use it weekly. I know a lot of products promise to leave your skin feeling super soft by morning, but I can honestly say, my face has never felt softer than after using this encapsulated serum. It takes soft to a whole new level!
What is your experience with eye creams and serums? Do you change up your beauty products with the season? I would love to hear in the comments section below! Also, be sure to follow along with Orogold Cosmetics on Twitter!
Thanks for reading and for Orogold Cosmetics for sponsoring this post. As always, all opinions are my own.