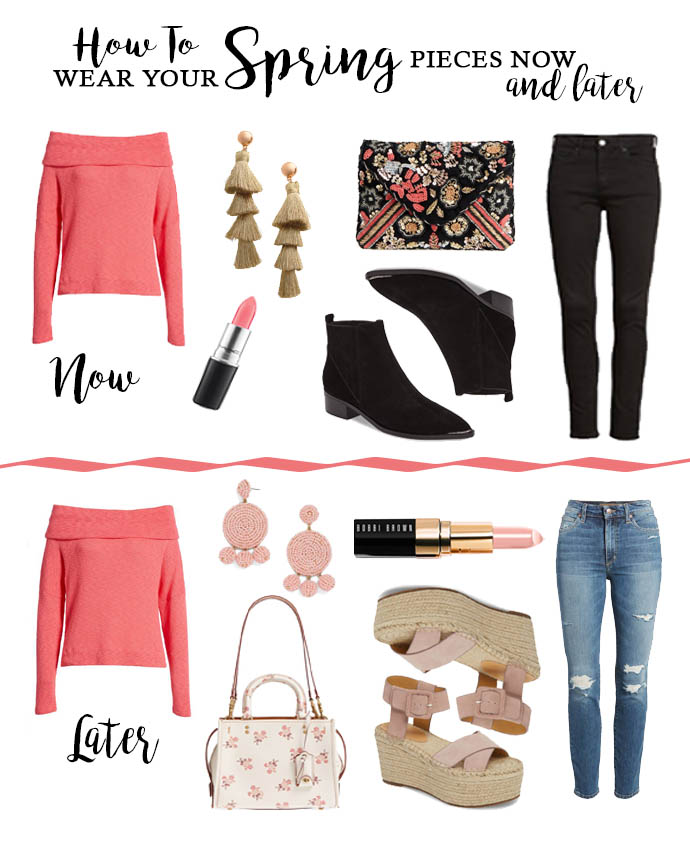 coral off the shoulder sweater | gold tassel earrings | printed clutch | black jeans | coral lipstick | suede ankle booties
coral off the shoulder sweater | blush statement earrings | blush lipstick | floral handbag (splurge!) | blush wedges | distressed jeans
I know I have been talking a lot about spring in the past few weeks in my inspiration posts, but I feel like I can almost justify it now: the high tomorrow here in D.C. is going to be in the 70s! I know it won't be sticking around, but this sneak peek of warmer temperatures makes me so excited for spring. And since I have been looking forward to spring since the first of January, I have already started adding pieces to my spring wardrobe (you can see last week's post about what I'm buying for spring here). But just because these are "spring" pieces, doesn't necessarily mean you have to wait until spring to wear them. Today, I'm talking about how to wear spring pieces now and later when spring eventually arrives.
How To Wear Spring Pieces Now
I don't know about you, but when I get something new in the mail, I'm like a little kid at Christmas. I can't wait to wear it! Oftentimes, it is not practical to wear some of those new pieces right away (i.e. swimsuits and sundresses) but when it comes to spring sweaters, you can definitely get away with wearing them now. I have been eyeing this coral off the shoulder sweater for awhile now and I think that after making this collage and writing this post, I've convinced myself that it's a must-have for spring. If this coral/pink color isn't for you, the sweater is also available in several colors including a pretty teal, white and even stripes. The best part about this "off the shoulder" sweater is that it's also a regular pullover! You have to love the convertible styles.
Even though the sweater is a bright coral color (perfect for spring!) you can easily pair it with darker accessories to achieve a seasonably appropriate look for now. I love it with the black jeans and suede ankle booties (which are on sale for under $100!). And the printed clutch, gold tassel earrings and lipstick bring the entire look together. A cute late winter date night outfit!
How to Wear Spring Pieces Later
The answer to the above question is many ways! It probably sounds silly to talk about styling this "perfect for spring" sweater because there are so many options, but I thought I would share one of my favorites. Pairing the brighter, coral pink with blush accessories gives you a bright and springy look. I love how just changing up the accessories completely changes this sweater: the first outfit is more edgy while the second is more girly. I have had these blush statement earrings and wedges on my list for awhile, they would be so versatile for both spring and summer! And while this floral bag is a total splurge, I couldn't help but include it in the set. It really brings the entire look together!
What spring pieces are you dying to wear? I would love to hear in the comments below. Wishing you all a Happy Valentine's Day! Thanks for stopping by and see you tomorrow, friends!
….
Shop the Post