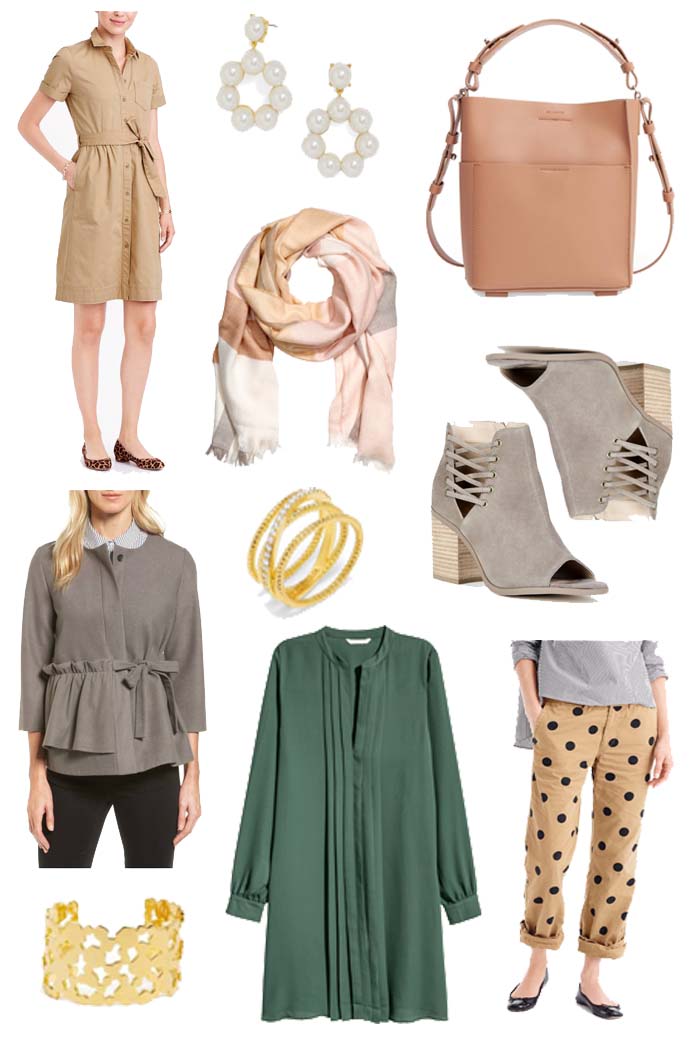 khaki dress | pearl drop earrings | bucket bag | scarf | open toe ankle booties | ruffle jacket | crossover ring | gold cuff bracelet | v-neck dress | polka dot pants
Happy Labor Day, friends! I hope you all are enjoying the long holiday weekend. Just a quick post today to share a few of the Labor Day sales with you and a fun Back to School Q&A at the end. Have a great and safe rest of the holiday!
Ann Taylor: 50% off full-priced items & an additional 50% off sale styles now through 9/5 at 3am EST
Banana Republic: 40% off everything now through 9/5
BaubleBar: Additional 20% off sale through 9/4
H&M: Up to 30% off & free shipping now through 9/4
J.Crew: 30% off select items with code YESPLEASE now through 9/4
J.Crew Factory: 50% off everything plus an additional 50% off clearance with code DELISH now through 9/5
Nordstrom: Up to 40% off now through 9/10
Sole Society: Up to 60% off select styles now through 9/4
….
In honor of Labor Day weekend and back to school season, I am teaming up with my fellow bloggers over at The Blended Blog for their September Asks!
Love school or hate school? I loved school!
Start school before or after Labor Day? We always started the day after Labor Day thanks to the Canfield Fair.
Wake up: eager beaver or slow poke? Eager beaver! I've always been an early riser.
Favorite breakfast? Oh wow, that's a tough one. Probably scrambled eggs.
Favorite cereal? Reese's Puff was by far my favorite. However, I was rarely ever allowed to eat it!
School uniform or no uniform? No uniform. 
New outfit for first day? Of course!
Walk to school or ride the bus? I lived pretty close to my schools so my mom or dad would drop me off. However, depending on the year, I did ride the bus too!
Backpack, tote or messenger bag? I started with the traditional backpack, but by high school I migrated to the messenger bag.
Eat school lunch or pack lunch? Packed lunch, unless it was Baked Potato Bar day in the cafeteria. I loved that!
Remember the little milk cartons? White or chocolate? I wasn't allowed to drink chocolate milk at home, so if I would get milk at school, it would definitely be chocolate! 
Paper bag or lunch box? Lunch box, that was almost always pink.
Favorite thing to do at recess? Four Square! Anyone else remember this?
Favorite back to school supply item? Pens and pencils. I still have a pen addiction today!
Chalkboard or dry erase board? Dry erase board most of the time. Some classrooms had chalkboards. I was never a fan of the chalkboards, especially the sound they make!!
Regular pencil or mechanical? Mechanical. With spare lead in my pencil case!
Homework as soon as you got home or after dinner? It depended on when I had tennis practice, but usually in the car on my way to and from tennis.
Favorite after school snack? Anything with peanut butter. (see last Tuesday's post!) I did love Bagel Bites but rarely had them.
Favorite after school show? When I didn't have tennis right after school, I loved to watch Clarissa Explains it All!
Favorite school subject? Anything with history or social studies.
Least favorite school subject? MATH. It was the only thing I didn't like about school. I dreaded that class!
Name of your best friend in high school? That's a tough one. I had a few!
High school mascot? Canfield Cardinals!
SAT or ACT? I took both, but much preferred the ACT (for as much as you can prefer taking a standardized test!).
Favorite year in school? That's a tough one. Probably my senior year. I was very much looking forward to moving on from small town Ohio to head to college in Pittsburgh!
Class ring or no class ring? No class ring.
Attend or not attend class reunions? Not attend.
Thanks for stopping by, friends! See you back here tomorrow for an all new easy weeknight dinner recipe!
….
Shop the Post