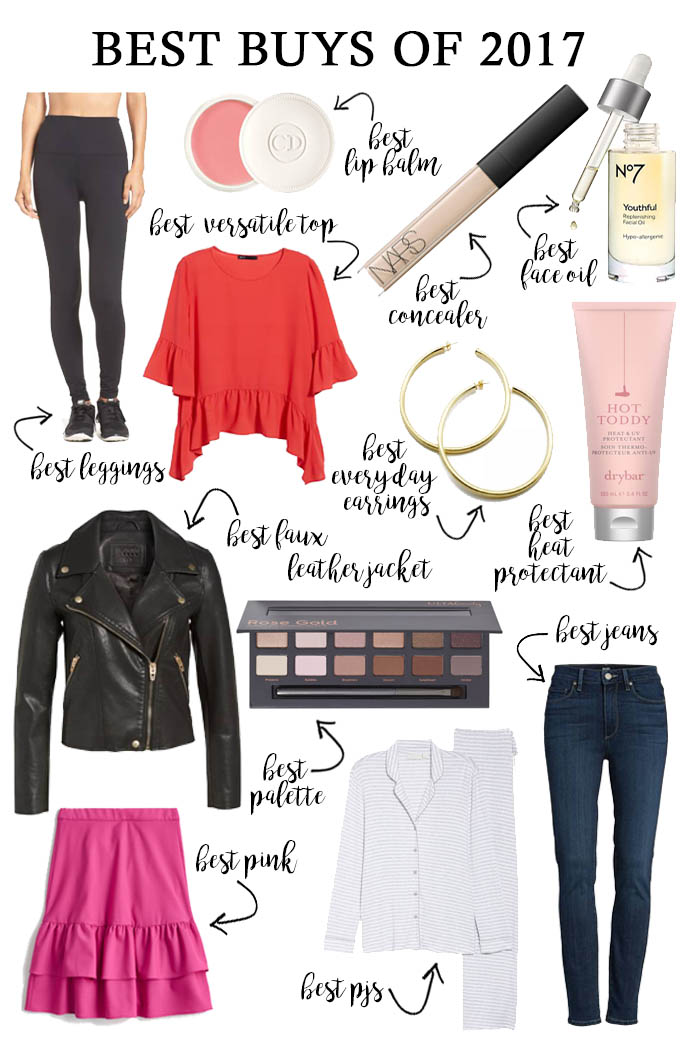 Happy Wednesday, friends! Each January, I like to recap some of my favorite finds from the previous year. So many of these items are my closet and beauty staples and they are all still available! Here is Best Buys of 2017:
Best Buys of 2017
Best Leggings: Zella's Live In High Waisted Leggings make my "best buys" post each year because they are that good. If you haven't jumped on the Zella legging trend yet, what are you waiting for?! I have multiple pairs of this legging and I use some for working out and some for dress up. Not only do I love the high-waisted style of these leggings but I also love the price. Priced just over $50, my first pair of these leggings is still in great condition, even after washing it way too many times!
Best Lip Balm: This Creme de Rose lip balm is my go-to lip balm. If you are an e-mail subscriber (you can sign up here!) I mentioned this balm in last week's Friday Five newsletter. I put the lip balm on each night before bed and by morning by lips are soft and smooth. A little goes a long way with this lip balm. I have had my current lip balm for almost a year and I am just about out. It is on the pricier side, but I think it's definitely worth the splurge. Especially since I don't use all that much each night. The rose scent is my favorite!
Best Concealer: I raved about NARS Creamy Concealer in last week's newsletter because it's an all-time favorite of mine. I had used the same MAC concealer for years and was looking for a new product to try. I stumbled upon this NARS concealer and have never looked back. It does a great job of not only covering any dark circles, but it also makes your under eyes look so bright and awake! This concealer is a must in my beauty routine. I wear the shade "Chantilly" for reference.
Best Face Oil: If you follow along on Instagram (@rach.mccarthy) I talked a little bit about my love for No. 7 products on Instagram Stories last month. I was looking for a replacement for my more expensive face oil when I discovered No. 7 Youthful Replenishing Face Oil and thought I would give it a try. I had been using the Beautycounter face oil (you can see that here) for a long time but was looking for a more cost effective option. This No. 7 oil is just as good, if not better, than the Beautycounter version and a fraction of the price. It's great for my dry skin in the winter!
Best Versatile Top: I bought this Ruffled Handkerchief Hem Top last spring and love it so much that I bought it in a few other colors! You may remember seeing the orange from this post and the black from this post. Not only is it a cute and comfortable top, but I love that it can be dressed up for work or down with jeans for something more casual. I cannot even begin to count the number of times I wore this top in 2017. I'm still looking to add the hot pink shade to my closet. And, you can't beat the under $50 price tag.
Best Everyday Earrings: For as long as I can remember, hoop earrings have been one of my favorite go-to everyday earrings. Don't get me wrong, I love a good tassel or statement earring every once in awhile, but for everyday, work earrings, I try to keep it simple. These Sheila Fajl (appropriately named!) "Everybody's Favorite" hoops are my go-to. I first saw them in a local boutique and bought them in gold. Since I wear them so much, I got the silver pair for Christmas! They are super lightweight and I love how they go with just about everything in your closet.
Best Heat Protectant: I would be lost without drybar's Hot Toddy heat protectant! I am on my second bottle (another product that lasts a long time) and it's my favorite heat protectant when drying and styling my hair. A lot of heat protectants are to be applied once your hair is dry, before straighten or curling your hair. But what about heat damage from the hair dryer? That is one of the reasons I love Hot Toddy! This lightweight lotion can be applied to your damp hair before blow drying and will protect your hair up to 450 degrees. Also, it smells amazing!
Best Faux Leather Jacket: There is no hiding my love for BLANKNYC's faux leather jacket. You have seen it just about a million times here on the blog (most recently here) but I love that it is just about a year round jacket. And it's easy to transfer between seasons depending on how you accessorize. You can see it styled for winter here, end of summer here and fall here.
Best Palette: I'm not a huge eyeshadow palette buyer, but I bought this ULTA Rose Gold palette last March and I'm still using it just about everyday! I love that it includes darker shades that are perfect for the crease of your eye and lighter shades to highlight your eyebrow bone. And, with it's $20 price, you get to try out a wide range of colors!
Best Jeans: I picked up these Paige High Waist Skinny Ankle Jeans during the Nordstrom Anniversary Sale and I'm so glad I did. I love the darker wash, the high waist style and they are actually the perfect ankle length. In the past, I have had problems with "ankle jeans" actually coming to my ankle. I am 5'8 but most of the time they look like cropped jeans! These were the perfect length and they are SO comfortable. They run true to size and are currently on sale!
Best Pink: I own a lot of pink but this Ruffle Hem Skirt is one of my favorite pinks in my closet. As soon as I spotted it in the store at the beginning of fall, I knew it had to be mine. The pink is so vibrant, it's almost more of a fuchsia. And who can resist a ruffle hem! You can see how I styled it in this post. The skirt runs a little big and is still available. It's even on sale!
Best Pajamas: Last, but not least, the most comfortable pajamas I have ever owned! I bought a pair of these Nordstrom Lingerie Moonlight pajamas during the Nordstrom Anniversary Sale because I had heard so many great things. When I say that I wear them every night, I am not joking. They are ridiculously soft and are available in quite a few colors and patterns. There is even a nightshirt version here. A little on the pricey side, but totally worth it in my opinion. I just got another pair for Christmas and I'm so glad that my original pair will get some rest now.
What are your favorite finds from 2017? I would love to hear in the comments section below. Thanks for reading, friends, and have a wonderful Wednesday!
….
Shop the Post