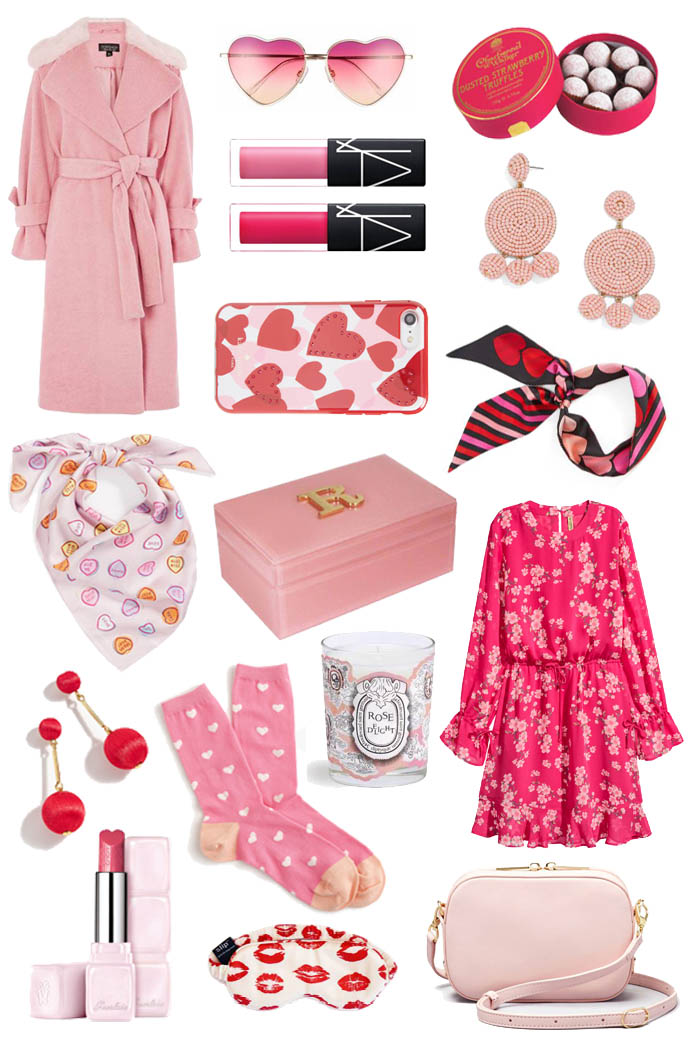 faux fur collar coat | heart shaped sunglasses | velvet lip duo | chocolate truffles | heart iPhone case | beaded drop earrings | "I Heart You" silk scarf | initial jewelry box | heart stripe skinny scarf | ball drop earrings | heart socks | rose candle | patterned chiffon dress | heart shaped lipstick | red kisses sleep mask (also available in a silk pillow case here) | leather camera bag
This post contains affiliate links, meaning I may receive commission if you click/purchase something I have recommended.
Happy Wednesday, friends! It's hard to believe that Valentine's Day is just a few weeks away. Whether you have plans for a traditional Valentine's Day with your significant other or a Galentine's Day with your best friends, here is some Valentine's Day inspiration to get you in the spirit.
Valentine's Day Inspiration
It's a well known fact that pink is my favorite color. But this time of the year, it only seems appropriate to mix shades of pink with red for Valentine's Day. I pulled some of my favorite pink and red pieces for today's Wednesday Wishes. Here are a few highlights:
Pink Faux Fur Collar Coat
If I didn't already have a pale pink coat in my closet (last seen here), I would have purchased this pink faux fur collar coat in a heartbeat. The faux fur is obviously the statement detail, but the wrap style, wool blend coat is complete with a belt that defines your waist perfectly. And how about that pink color! Priced under $200, this coat looks super luxe and more expensive than it's price tag.
Rose Candle
I have shared my love for diptyque candles here before, and although I have yet to find a scent that I love more than Baies (shop that candle here), this limited edition candle could be a contender. Rose is my favorite scent and while Baies features notes of rose and blackcurrent, this new rose candle features notes of fresh roses and lemon, to name just a few. It's an intriguing combination and I'm looking forward to smelling it. The pretty packaging doesn't hurt either!
Accessories
There are so many great accessories in this set, it's hard to know where to begin! I love the "I Heart You" silk scarf and the hearts and stripe skinny scarf. Both would be a perfect accessory to wear to work on the holiday. I have also had my eye on these beaded drop earrings (also available in black and red). Not only would they be perfect for Valentine's Day but throughout spring, too!
I apologize for not having a food post up for you yesterday. This is our busy season at work and I have been feeling like I am a hamster on a wheel and I can't get off! Thankfully, it's only a few months that it's crazy at work, but I apologize if I have been/will be a little MIA. Thanks for stopping by and see you back here tomorrow for a new outfit post!
….
Shop the Post